I'm sitting up in the early hours of the morning waiting to collect my daughter Bethan from a youth group trip to Hillsong Church in London and she's going to be another hour so I may as well write the blog now that I was going to wait until tomorrow to do!
Yesterday I had a 'guys' day at the International Rugby Sevens tournament at Twickenham Stadium in London. A good friend of mine, Rob Holder, is currently the manager of the USA Eagles national rugby team until at least after the Rugby World Cup in September and October of this year. I first met Rob back at the 1999 World Cup in Cardiff when he was over on an outreach, and we've kept in contact ever since.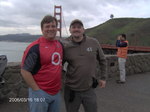 Here's a picture of Rob and I taken last year when I stayed with him for a couple of day- he's wearing an England rugby shirt I took as a gift. He and his wife have become big Third Day fans and I've been able to invite them along to concerts a couple of times in and around San Francisco where they live. The USA rugby team is currently taking part in the Churchill Cup tournament in England, and although they didn't have a team in the Seven-a-side tournament yesterday, most of the team went along for the fun of it. Rob got me a ticket and, in the cold and wet weather, we watched a stack of rugby. Highlights for me were very definitely two outstanding wins by the Welsh sevens team. A 22-0 thrashing of England was greeted with heaps of pleasure by the hundred or so Welsh supporters in the stadium, and by stunned silence from the 15,000 or so England fans. Then Wales qualified for the quarter-finals after beating Portugal 15-14 by scoring with the last move of the game well after the hooter had sounded. The main Welsh 15 a side team was concurrently losing an epic game 29-23 in Sydney to Australia, also from a score after the hooter had sounded. I'd never been to a Sevens tournament before and I really had a good time- especially catching up with Rob. He's got a very strategic role in USA rugby and has been offered a couple of long-term posts after the World Cup. LIke most of the sides in the World Cup, USA are based in France in the autumn and Rob has invited me over to see one of their pool games. They have been drawn in the same group as England, Samoa, Tonga and South Africa, so life for the Eagles is going to be very, very tough! Wales got to the semis of the Sevens today, and lost to the Sevens circuit leaders Fiji, who lost to close rivals New Zealand in the final.