A truly memorable concert in Cardiff last night for many reasons:
* A hot n'sweaty club gig which Third Day don't often get to play these days.
* A great attendance as far as we were concerned.
* Mac was on top form and shared very powerfully and clearly about faith in Jesus.
* We collected a good sum of money to sow into our Ignite India Church projects.
* Both Tai and Mac were very gracious in their comments about me from stage- must admit I feel a strange mix of emotions when they do that: embarassment and thankful, with a tears in my eyes.
*Gill, Bethan and Rachel were all there to enjoy the show.
*As were some of the Serious4Youth Ministry crowd all the way from Nantwich.
* Lois Richards also showed up, recently home from Brazil.
*An unexpected night at home in my own bed- felt very strange in the middle of a Third Day tour!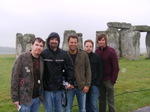 Today we drove from Cardiff on our day off firstly to Stonehenge which proved a big hit with band and crew alike. Then we travelled onto Oxford for a C.S.Lewis tour guided by the legendary Ron Brind who was a friend of Lewis's stepsons. The tour was very revealing, both to the guys in Third Day (Mac and Mark are big C.S.Lewis and Tolkien fans) and to me who has never been a big fan of either although I've read a couple of Lewis's books. We visited pubs, colleges, houses, all linked to C.S. Lewis's life and also went to the church he worshipped at and is buried in. Sadly, his grave is in a badly kept state, which seems such a shame. C.S.Lewis is seen as an absolutely pivotal Christian thinker in the USA, but he's a bit of a secret in the UK apart from the Narnia Chronicles. Here's Mac in one of the pubs Lewis and his friends frequented: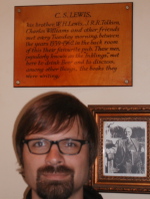 On the way to our Heathrow hotel, in our luxury mini-bus, Tai asked me to lead a devotion there and then, so I drew on the passion and the real life experiences of Ron Brind as he shared with us about C.S.Lewis. Using verse from 1 John that John Coles of New Wine had preached from at the New Wine conference last week, I explained that God gives us an authority and an anointing when we share directly from our own experiences of God rather than just putting forward a theory or a set of theological propositions. The devotion set us up for a frank discussion about how we talk about our faith, how the guys approach song-writing, how in general often Christianity is put forward as 'bad news avoidance' rather than good news, all earthed in verses from 1 John.
Tomorrow we fly over to Belfast.