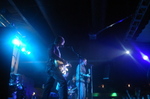 Third Day in Solus Bar, Cardiff.
Another Hilton Hotel lobby, this time in Glasgow. Gary, his son Ben, Mark Hibbert from Ignite, Tai from Third Day and me are sitting around discussing the tour. Last night in Belfast we were at Whitewell Metropolitan Tabernacle with Brian Houston supporting. Before the show I was able to introduce the band to George McKim, soon to be senior pastor of the church and a one-time loyalist terrorist. In the concerts in Cardiff, Belfast and Glasgow I am sharing from stage about Paul's dream in Acts 16 when a man from Macedonia appears to him and says 'Come over here and help us'. It's a pivotal passage, because Paul's obedience to this request brings the gospel into the Western world. I've been talking about it in the context of the audience helping 2 groups of people today. Trevor King, who is co-promoting these shows with Ignite, and his Friendly Faces Foundation, are involved in helping rescue children from slavery in the fishing industry in Ghana. Ignite have been building churches around the city of Rajahmundry in India ( you can see some pictures in my gallery section or under the Indian flag on the Ignite web site.)
In Belfast, the offering to be split between these two causes was an incredible £6,000!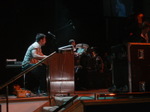 Scotty Wilbanks and David Carr on stage in Belfast.
Our band devotional time last night, as well as Pastor McKim praying for the guys, focused on Jesus in the garden of Gethsemane and his arrest- looking at how even in difficult, distressing times, being betrayed and deserted by those around him, Jesus was able to find good in the bad, hope in the heartbreak, and was always able to focus on God's purposes through the pain.