Just back from a Wild at Heart men's weekend with 24 guys from the church. We use the Wild at Heart DVD series by John Eldredge, with Chris Cartwright and I facilitating the sessions. This is the third weekend we've led in 20 months and each one has been special. Gary came along at short notice, and led one of the small groups, and our good mates Matt Gregor and Pete Joyce were there as well.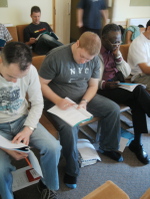 The first one of these weekends we did was a very significant time personally for me in beginning to respond to God's tugging at my heart with regard to future direction, and this weekend seemed equally as significant for Gary. We all had great fun abseiling, climbing or going on the ropes course, plus opportunities to get to know some other guys better, and a real sense of God doing a work amongst the participants.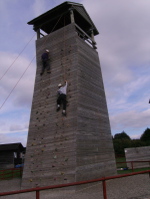 A selection of memorable lines from Eldredge:
A deep sense of validation is core to our identity as a man.
Masculinity is bestowed by the Father.
The question 'Do I have what it takes?' can only be answered in the trial.
To walk away from the poser in us we have to step out of our fears and conquer them.
You can't write your story, or let anyone else write it- The Author of Life writes it and invites you to join in the adventure. Living a life of comfort in a small story will mean you never see the adventure that God has for you.