The last two days I've been in London at the EVANGELICAL ALLIANCE UK Council meetings. About 50 of us representing a wide variety of denominations, ministries, and geographical areas gathered in Church House next to Westminster Abbey to discuss the role of the EAUK as an umbrella body representing evangelicals. I led the short devotional time at the start of yesterday's agenda and had given much consideration to what I would speak about. Eventually the Lord led me back to a favourite focus of mine- the relationship between Paul and Timothy in a talk I have entitled The Miracle of Generation Blessing Generation. I simply challenged us to put a high priority on identifying, equipping, supporting and releasing the next generation of leaders. When looking at the relationship between Paul and Timothy I see that it was a relationship:
*Started on a positive choice- from both sides, with some risk attached. See Acts 16.1-5
*Based on honesty- they ralked about the real stuff. See 2 Tim. 2.23-24
*Developed over time-no 6 week discipleship course for them, or a quick coffee every so often. See 2 Tim. 1.3
*Focused on Jesus- Paul talked to Timothy a lot about himself, but he talked more about Jesus. Count the times Jesus is mentioned in 2 Tim.1
*Strengthened by service- they had an active missionary relationship. See Phil. 2.22
A fascinating discussion under the title 'Emerging Church- Passing Fad or Paradigm Shift?'
was led by Jason Clark from a network called EMERGENT UK which gathers together folk who are involved in various expressions of emerging church.
Tonight we have a Rugby World Cup outreach event at City Temple and tomorrow I go to see Wales play Australia in the Rugby World Cup! My good mate Andy Gourley is over from Brisbane- he runs a ministry called RED FROGS CREW and is also Chaplain to the Queensland Reds Super 14 rugby team.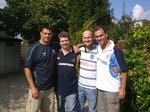 He's helping out at the outreach event tonight and yesterday he introduced me to Danie Coetzee, a South African currently palying for London Irish. He's a strong believer and has played for the Springboks. Here's a photo of Danie, Andy, me, and Andy's mate Craig from Perth, Australia. We filmed a video message from Danie for tonight's meeting and we'll show it just before we watch the second half of the England v. South Africa match on TV.