Ellmau is in the Austrian Tirol, midway between Salzburg and Innsbruck.
The Scenery.  The Tirolean mountains are really spectacular, and the Wilder Kaiser range is no exception. Here is the view from our bedroom window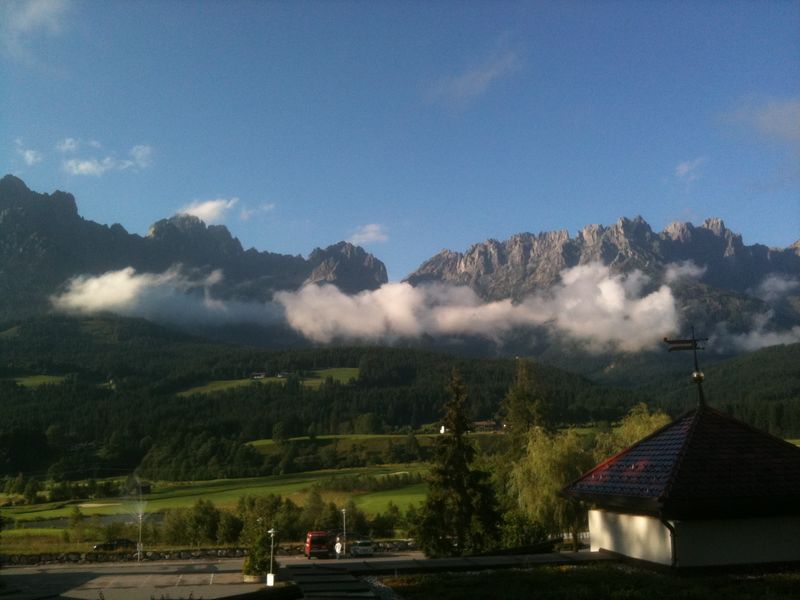 The Hotel. Sporthotel Ellmau is the best hotel we've ever stayed in. They do the basics very well, and add in some nice extras like free coffee and cake, free packed lunches, live music, and their food and recreation are superb. I've been enjoying a sauna and steam-room everyday.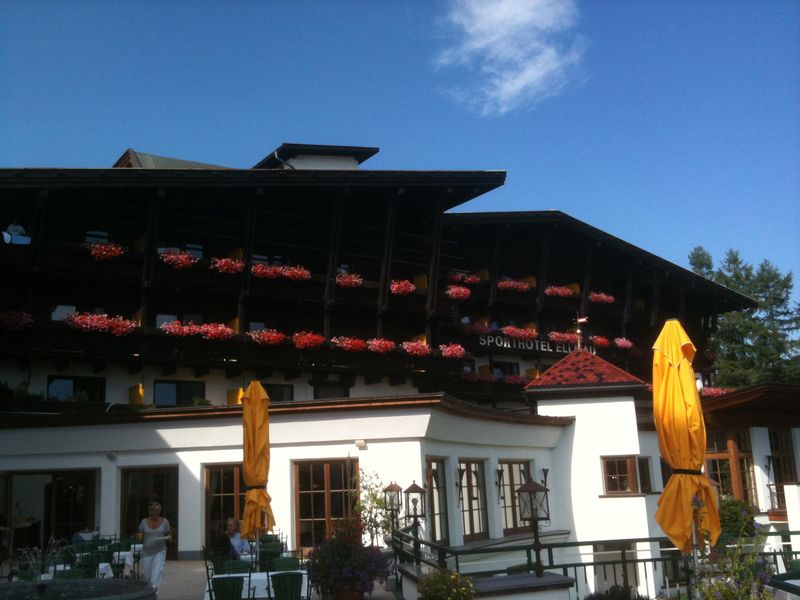 The Food.  Extravagant breakfast buffets, and 5 course evening meals. So far I've experienced wild boar, venison, rabbit, ostrich,  and Gill has had a selection of fish including baramundi.
The Golf. We've played 9 holes at the posh Wilder Kaiser course, and nine holes at the smaller but equally well placed Kaiser Golf par 3 course. There's something special about playing golf with mountains in the background.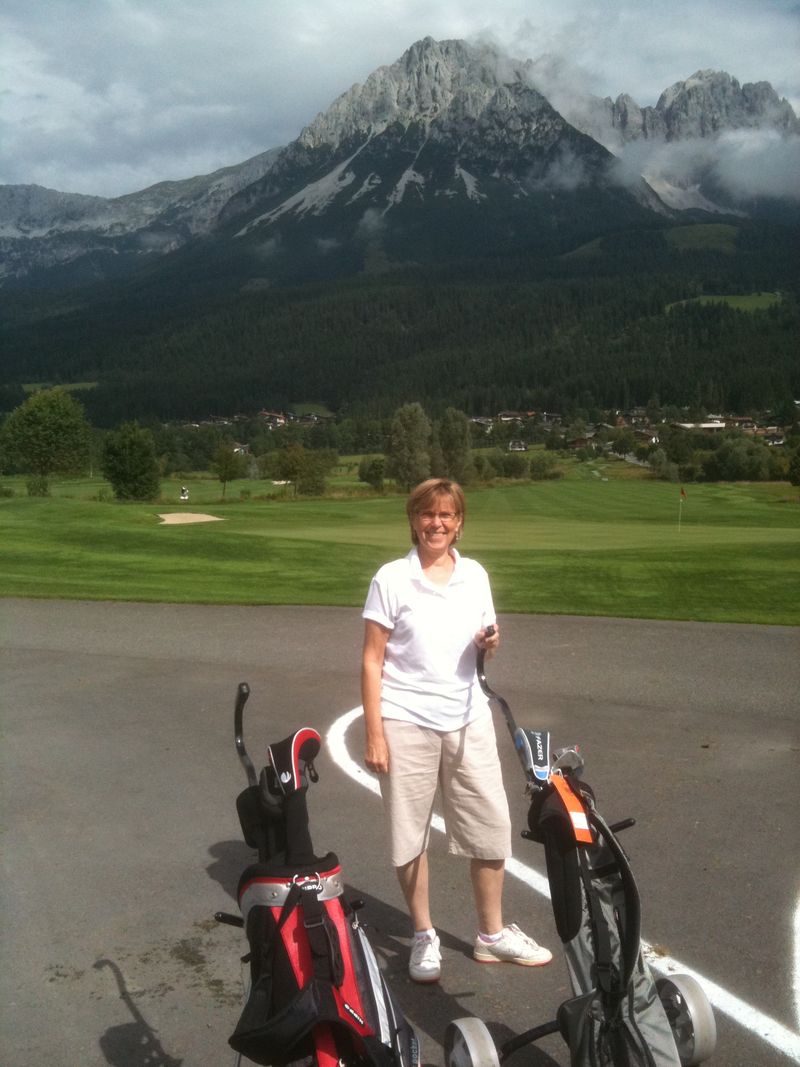 The TV. Not that I'm an addict but the satellite TV has BBC Entertainment and BBC World News, so I'm up to date with the world situation and have watched some 'quality BBC programmes' I wouldn't have seen at home.
The Music.  Been listening to Mark Butcher's new album. This is a startlingly good debut from the ex-Surrey and England batsman. A great mix of blues, soul and rock from an accomplished singer/guitarist. He was a classy cricketer as well.
The Bible teaching. Keith Warrington's Hope Bible Studies were delivered at the Elim conference back in June but I didn't get to listen to them live so I bought them on CD and put them on my i-Pod. Outstanding talks from an exceptional Bible teacher.
The Walks. We've bought a three-day pass on all mountain railway, cable cars, gondolas, etc so have ventured to the top (about 1550 metres) and walked around making good use of our hiking poles and the free packed lunches-and regular stops at scenic spots or mountain cafes for a cold drink.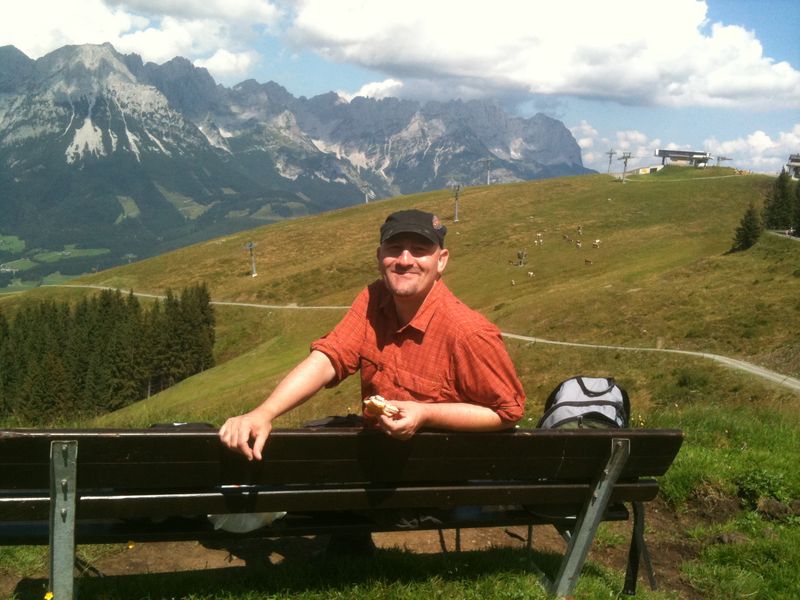 The Day Out. Early in the week we visited Lake Achensee, which is a lovely spot- we liked it so much we'd gladly have a holiday there in the future. A leisurely stroll around part of the lake turned into quite a challenge with some scary mountain paths and a precarious path under a waterfall.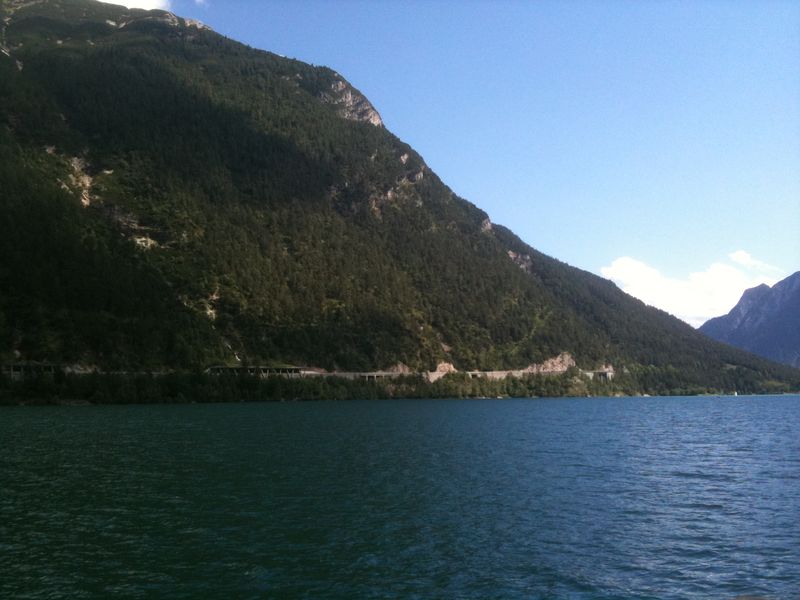 The Wife. Gill and I don't spend as much quality time together as we should-so this is our time…. And we are loving it!