As I get older the more I realise that the secret of a successful Christian life isn't how well you start it but how well you finish it. At the age of 47 I can admit that there are times when I lose enthusiasm and find I'm running out of energy, and at my weakest moments I worry that I might run out of steam- lose my energy and passion and be unable "to reach the end of the race and obtain the prize" ( in the Apostle Paul's words.)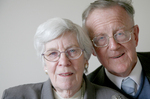 Gill's uncle and aunt, Donald and Sheila, are well into their seventies and still enjoy an active life travelling to visit friends and relatives and are both completely immersed in the life of their local church. Tomorrow, Donald receives a certificate for completing 50 years of preaching as a Methodist local preacher- 50 years, that's one heck of a long sermon. I'm amazed, encouraged, challenged and thankful for a man who has faithfully been preaching the word of God for 3 years more than I've been alive. I'm praying for the same endurance for myself. Well done, Donald, for preaching the Word in season and out of season and for guarding the Gospel.
Incidentally, tonight I was speaking at the 'Offensive' evangelism course organised by Dai Hankey from Ignite. My theme was 'Fuel for the Flames' focusing on LOVE- God's love for us and our love for Him and for our neighbours- The Greatest Commandment. I used Uncle Donald as an example and stated that my hope was for many of the young people present still to be full of the love of God and sharing the love of God in 50 years time. That would be a terrific legacy left from this year's Offensive course. Meanwhile, countless thousands of people in the last 50 years will have had their faith strengthened and stimulated through Donald's preaching.