So tonight we rounded off the Leadership Summit and managed to pack into the evening:
*A final IGNITE teaching session on Exploring God's will for my life.
*120 students committing outloud to the IGNITE declaration.
*Students sharing how God had spoken to them this week- worth the flight over on its own.
*A talent contest including someone imitating me- well they say imitation is the sincerest form of flattery!
*A late-nite soak in an open air hot tub under a clear starry sky and surrounded by more than 6 inches deep of snow!

Earlier in the week, my old friends The Sonflowerz came along and performed a concert and really connected well with the students. Life for The Sonflowerz is going well-with a new Nashville recorded album called All Around The World due to be released soon.
I love going to this Summit and especially to work with some top quality people- WALMART's Senior Vice President for International Development was here, for example, and the team who lead the Summit are great guys. Mike Winegeart and Tim Johnson have become good friends of mine, and Mike has a real passion to support our work in India. Each student at the Summit has taken away two MAD tins (Make a Difference) with a challenge to raise funds for our India School Project.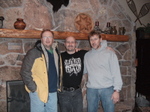 I look forward to hearing what the Lord has in store for these young men and women of God, and I'm pleased to have played a small part in their journey. (The Leadership Team: Top picture-Tim, Me, Rick and Jennifer. Bottom picture- Mike, Me , Duane)