Highlights of three days off in Atlanta-
*2 nights at Mac Powell's home.
*Joining Mac for a min-Mac Christmas concert for his 2 youngest children and 30 other kids in their infant school. I read them a Christmas story in my best British accent.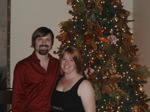 *The Powell's Christmas Party- very elegant with lovely decorations, a piano player, caterers, carols around the piano, and plenty of photos from the official photographer ( you've guessed it- me again.)
*Borrowing Mark Lee's VW Beetle (Bug for the US readers) and visiting Scotty Wilbanks studio The Rockporium..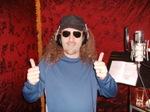 *Speaking one sentence on a new track for the DecembeRadio forthcoming album!
*Lunch with Scotty, his wife and son, and Josh from the aforementioned DecembeRadio at the legendary Williamson Bros. Barbecue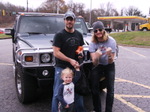 *Dinner with Mark Lee and the missions pastor from his church- plenty of talk about being Glocal (thinking globally and acting locally) and lots of stories about India.
*Beowulf in 3D - it blew Mark and I away!