After three days in Fort Wayne Indiana, with my friends Andy and Trisha Booth, I've rejoined Third Day for the next concert of the tour-in Hoffmann Estates just outside Chicago.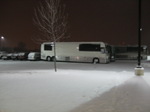 We are at LifeChangers International Church, and the four inches of snow that fell in Fort Wayne on Tuesday night is also in Chicago.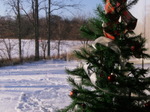 Now this really feels like a Christmas tour! Whilst I was in Fort Wayne I got to speak for my friend Ben Gates at the IPFW campus ministry Leadership Academy (modelled on the Ignite Leadership Academy in Cardiff) and to Heartland Church youth group, as well catching up with Zach, Jenny, Jaimee, Matt and Jeff. Mostly though I spent plenty of quality time with Andy and Trish, their two sons Jake and Eli, and their newborn daughter Rhianna.