I'm at home preparing for a day lecturing on Saturday, and I've just been completely overcome with emotion watching the funeral service of Ray Gravell-a Welsh legend-Llanelli hero and current Lllanelli Scarlets president, international rugby player, broadcaster, actor.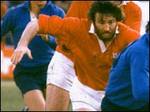 Ray died in his mid-fifties and the principality of Wales has been in mourning. I hadn't realised the funeral was today and switched the TV on briefly at lunchtime to see that the service was being covered by BBC 2 Wales and S4C the Welsh language channel. Gerald Davies, a Wales team mate of Grav, delivered in Welsh and English, one of the most eloquent, poignant and heartfelt tributes I have ever heard, and said this:
We tend to remember men for their deeds and accomplishments, and Grav had many, but what we should do is remember them for their spirit, and Grav's was immense. What was remarkable about him was his humanity.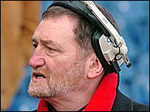 I don't mind admitting that when the crowd at Stradey Park, the rugby ground that was so important to Grav, started singing the hymn Cwm Rhondda and the pall bearers, including current Welsh rugby players and the recent Welsh coach, collected the coffin, I shed a few tears.