Yesterday was strange- home in Cardiff but didn't go to church. Was still coughing and choking too much!
Prasad and his family went morning and evening and enjoyed their time at City Temple immensely. City Temple announced that because our numbers are increasing and we are almost at capacity in the mornings, from October we'll be running two morning services- at 9am and 11am. Should be exciting.
Prasad has been keeping me up to date on the Ignite India church situation. The first two churches in Bhopalapatnam and Gummuluru are growing strong, and the third church in a village called Nidigatla is ready to begin worship services.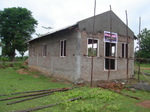 Then we have had a big rush of activity thanks to the fundraising efforts on the Third Day UK tour. Tapeswaram church is more than half constructed, and the foundations have gone in on the Ambajipeta church. Money has already gone over to start the construction of a church at Tatapudi. We still have some money put aside for another church, and Third Day's UK fans are funding a church also, so by the end of this year we will have exceeded our target of six churches. Praise God!