Just back from our caravan after a few days break with my wife Gill. Enjoyed 2 rock n'roll moments while I was there. Firstly I watched This is Spinal Tap again- a spoof rockumentary about an English rock band at the tail end of their career trying to tour America. It's a VERY funny film and seeing it again reminded why for years Third Day's old road manager booked them into hotels using the names of the Spinal Tap band. Then last night, Gill and I along with Gary and friend Martin Evans from our church, went to see legendary band The Who in Swansea's Liberty Stadium. For my younger readers, they are the band who supply the theme tunes for CSI, CSI Miami, and CSI New York.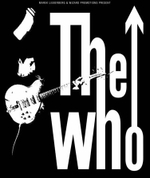 The Who's classic anthem of the 60's, My Generation features the infamous line hope I die before I get old and unfortunately that's what happened to two of the founder members Keith Moon 'the Loon' and Jon 'Ox' Entwhistle. Now the band consists of 60 year olds Roger Daltrey and Pete Townsend plus some veteran accomplices including Ringo Starr's son on drums.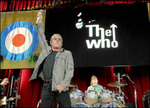 Four times - yes, four times, during the show the power went down, frustrating audience and band alike. On one occasion, after a break of 2 minutes or so, they started back up exactly where they'd left off! Very impressive. As Gary said " It was worth the ticket price just to hear them play Won't Get Fooled Again."