Well! I got ordained on Monday night at the Elim National Conference in Minehead. It was a pretty special occasion really, with the National Leadership Team of Elim laying hands on the 26 ordinands and praying for us. Jeff Lucas then delivered a great message to the 3,000 or so people attending the conference.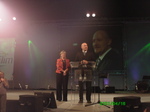 My wife Gill and my parents travelled across to Minehead from Cardiff for the ordination, the stewards in the venue were all from City Temple in Cardiff, the rest of the leadership team from the church were all present, as was Gary Smith my long-time colleague at Ignite. The suit and tie were required dress for the occasion but didn't stay on for the rest of the week.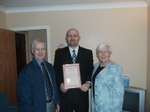 A little earlier in the day I needed to be assisted by Chris Cartwright- good friend and senior pastor at City Temple. I'd locked myself in the bathroom and the lock was jammed, with me wearing only a towel. After much struggling with the lock we seemed to have no alternative but for Chris to hand me some clothes through the window and for me to climb out. He tried one final time to open the lock and it worked. The assembled gathering in the evening were amused to hear me thanking Chris for rescuing me- not spiritually but from the toilet!