Sad news today that the Pakistan cricket coach Bob Woolmer has died tragically at the Cricket World Cup.
I was speaking at St. Mellons Community church this morning on the theme of Peace and then settled down after lunch to watch the England v. Canada cricket game. It was announced that Woolmer had been found unconscious in his hotel room, and then a while later that he had died. He was 57 and yesterday had seen his Pakistan side, one of the tournament favourites, being beaten by part-timers Ireland. He described it last night as the worst day of his cricketing life.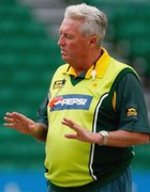 Bob Woolmer played for Kent and England, was an innovative and winning coach of Warwickshire, successful coach of South Africa, High performance manager for the International Cricket Council, and finally coach of Pakistan throughout a turbulent time. In the last 6 months Pakistan were accused of ball-tampering, had two players banned for drug use, one of which had a stand-up row with Woolmer, the Pakistan authorities decided the team would only reply to interviews in Urdu rather than English, yet Woolmer remained passionate about the game he loved. Interestingly, he was coach to the two most 'religious' teams ever; Hansie Cronje's South Africa of the 1990's was full of committed Christians, and the present-day Pakistan team had re-discovered a Muslim fervency. In times of controversy or defeat, Woolmer would remind the media that 'it's only a game, and it's not a matter of life and death'. Sadly, it seems likely that the game he lived for became the game that killed him. Bob Woolmer, rest in peace.