A sell-out crowd of 3,400 saw Third Day perform an awesome set in a hot and sweaty venue. We flew from Melbourne this morning and were met at the airport in Brisbane by Andy Gourley. I met Andy the last time we were in Australia and we immediately connected. He heads up an outreach programme called the Red Frog Crew which ministers to final year school kids and to students. Andy will be over in Cardiff for the Rugby World Cup in September, and this afternoon we managed to sneak off for an hour to watch some cricket at the world famous Gabba ground. He's a good guy and we feel like we are kindred spirits- it's great when God arranges those friendships.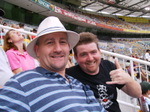 Band devotional time today focused on another title given to Jesus, and I encouraged the guys in Third Day to lay hands on and pray for the guys in an upcoming Aussie band called Revive who are our support on this tour. Later in the evening, the guys in Revive asked to sit down and chat with me about their future direction and focus as a band. Hopefully, the Holy Spirit will have taken hold of some of the stuff I said and used it to help them. It's always a privilege to have a conversation like that.
Final highlight of the day came after the show, through introducing Third Day to the humour of Rolf Harris- Aussie legend living in the UK. They wanted some typical Australian music to use in Sydney tomorrow on Australia Day and I suggested Rolf. Mark Lee came across the song Jake the Peg on YouTube and it was a hilarious performance, live from the Royal Albert Hall. So that's what a Christian rock band gets up to after a concert I hear you say.