The acoustic set in the middle of Third Day's show is always very well received, especially tonight when the guys added a song from their new Christmas Offerings Album. The song, which they rehearsed at the last minute on the tour bus outside, talks about the timeless truth of the birth of Jesus and it is called Born in Bethlehem. And where are we playing tonight?..... Bethlehem, Pennsylvania of course!
Earlier we went to see our second magicians film in a week. This one was called 'The Illusionist' and although it wasn't quite up to 'The Prestige' it was certainly an entertaining film. It starred Edward Norton and Paul Giammatti: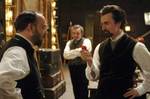 Here's a quick synopsis for you:
In a world where nothing is as it appears, an illusionist and a police inspector face off in a challenge of wills that attempts to determine where reality ends and magic begins...all the while blurring the line between power and corruption, love and devotion, vigilance and mania and ultimately, life and death.

- with acknowledgement to www.rottentomatoes.com/illusionist.