We're at a State Fair Ground in Mississippi and on Sundays I try to get everyone together for a Communion service-we had a sweet time together and the presence of God was evident as we prayed.
The upcoming band Leland are filling in for Dave Crowder today- Leland are 2 young brothers (21 and 18) from Texas with three of their friends. Their music is intense and worshipful, their lyrics are powerful and fresh, and one song in particular -Tears of the Saints- is destined to be a classic.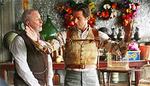 Earlier a bunch of us went to see a movie called The Prestige, about two rival magicians in 1890's England. Jealousy and revenge, life and death, illusion and reality, obsession and achievement, were all interwoven in this multi-layered mystery thriller. I couldn't help thinking of my old friend Pete McCahon, Christian escapologist and illusionist who sadly died far too young a few years ago. He would have absolutely loved this film. Here's a picture of Michael Caine and Hugh Jackman from the film.