After speaking in the first session of the latest Ignite Leadership Academy tomorrow night, I drive up to Heathrow airport. Six of us fly to India the following day, for 10 days of mission activity with my friends Prasad and Vinod.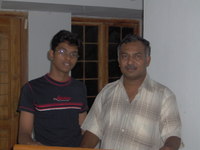 Hopefully I'll get on line once or twice to post a report, but here's our itinerary:
20th Flight to Frankfurt departs 7.15am arrives 9.45am
Flight to Hyderabad departs 10.55am arrives 11.10pm
Hotel in Hyderabad
21st Flight-Rajahmundry departs 9.30am arrives 10.40am
Afternoon settle in. Lay foundation stone for the School Gill and I are helping to fund.
Evening- two teams for village visits
22nd Village visits and ladies meetings
23rd Official opening of Ignite church in Gummuluru
Evening village visits.
24th Youth Campaign in different villages.
25th Pastors conference
26th Pastors conference
27th Visits to Tribal villages including youth meetings
28th Village visits
Overnight train to Hyderabad departs 10.00pm
29th Hyderabad site seeing, rest in hotel, arrive airport
30th Depart for Frankfurt 1.15am arrives 7.15am
Depart for Heathrow 8.25am arrives 9.00am
If you get a moment you could pray for Craig, Maddy, Jess, Richard, Bryon and myself. We're all very excited and want to see God move powerfully.