At the home of Tai Anderson, Third Day bass player, in Roswell, Georgia. Just finished watching the World Cup- with US commentary. Here's a USA style summary: Zidane scored a PK in the first half of regulation, Italy tied the game, the Italian defense held out the French offense, the game goes into overtime after regulation, Zidane gets thrown for a head butt, and the game goes through both overtimes into PK's. Italy wins 5 to 3 in PK's. Make any sense to our UK readers?
It's been good to catch up with the Third Day guys and talk over a book project we're putting together. Third Day had a show yesterday at a theme park in Virginia so we've had two nights on the bus, but got home early enough today to go to church this morning. Then we went to a party celebrating a 4 year old's achievement at finally getting potty trained (only in America!) before coming back to the house to watch soccer and to see Zidane end his international career ingloriously.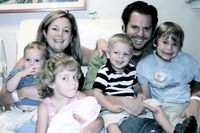 Tai and his wife Shannon have 5 young children and I stand in awe of their organisation, edurance, patience and commitment to family life.