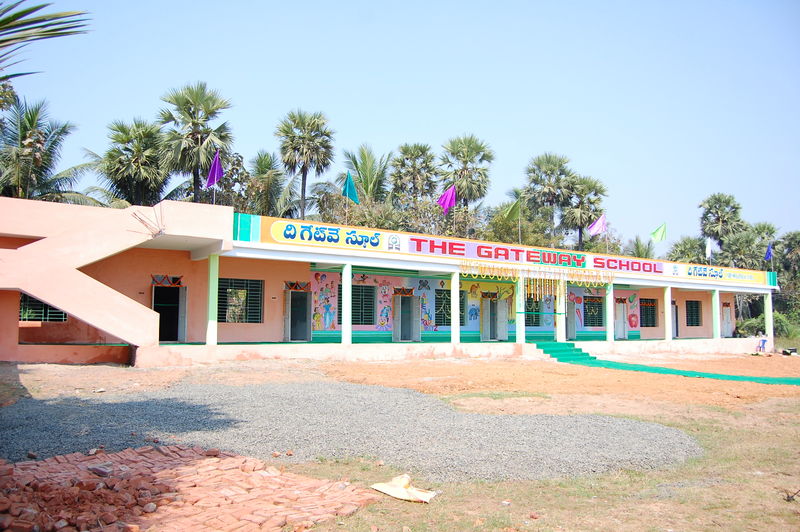 I'm sitting at home one day after returning from India to attend the official dedication and opening ceremony for the Gateway School. On reflection, here are my highlights:
Having Gill accompany me, and seeing her enjoy the trip so much.
Watching her cut the ribbon to open the school, after 3 years or so of fundraising. 
Traveling with our friends Paul and Amy Reed. We arrived 4 days before the team from City Temple. Gill and I enjoy Paul and Amy's company very much, and they had been a consistent support in the fundraising.
Renewing my friendship face to face with Pastor Prasad and his family- Sunee, Evangeline, Victor, Vinod, Sagar, Prabhakar...  the list goes on. 
Having a whole trip illness free ( apart from a little too much sun one afternoon). 
Taking the opportunity to visit some of our Ignite India churches- including the dedication service of one, and one currently under construction. 
Playing golf with Bryon Castle and Richard Tugwell, and receiving some tuition from our new friend Silveraj- the top amateur player in India! 
Speaking at the dedication service for the school, and preaching on this verse:    

And Jesus grew in wisdom and stature, and in favor with God and men. 

 

 

Attending and speaking at the Blessings Festival on the Come Together Compound (home of the school) and seeing many people young and old become Christians,

 and many significant healings.
Observing the City Temple team grow in faith and confidence as they saw God use them powerfully.

 Praying for a young pregnant, married woman and her husband. He had infected her with HIV, and her family was unaware of this situation.

Visiting the leprosy church that we had long been supporting, and agreeing to build an Ignite church there and also to fund toilets for each of the simple houses on site. 
Swimming briefly in the Indian ocean on an afternoon trip to Kokanada. 
Visiting a goat market with Prasad to buy meat to feed all who attended the opening of the school. We sent Sagar off with 3 goats in the back of an auto-rickshaw, and those goats provided enough meat to feed 500 people.

Flying by Emirates Airlines and getting upgraded from Dubai to Hyderabad on the way out. 

 
Returning to City Temple last night to show some pictures and tell some stories.  
YOU CAN SEE A SELECTION OF PHOTOS OF THE SCHOOL OPENING IN MY PHOTOS ON THIS SITE.